Most major beer corporations know if they want to rule the market, it's about time they begin catering to Hispanic consumers. After all, the buying power of Hispanics has reached $1.2 trillion, which in 2012, was larger than the entire economies of all but 13 countries in the world, according to the UGA Selig Center Multicultural Economy study.
So, employees in Miller's Hispanic marketing department reached out to Dean Schwartz, owner of Miami-based SOBO Concepts to create authentic tangible campaign elements. Schwartz, who has worked in the Latin American sector his entire career, also runs a popular Latino fashion merchandise store. "They came to us and said that we seemed to have our finger on the pulse of this Hispanic market, so they wanted our help," Schwartz says.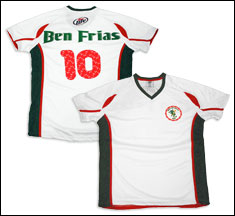 Miller needed a design for a soccer jersey in honor of the World Cup, so SOBO's team of artists went to work. They created an Aztec-like emblem for the front of the jersey and a playful name for the back: Ben Frias. "We're all about figuring out ways to relate to the target audience," says Schwartz. "One of the most important things is being relevant to consumers."
After the jersey was a success, Miller came back for more. This time, they wanted a product that celebrated the Hispanics' love for wrestling. Since soccer is a large part of the Hispanic culture as well, Miller planned to give the item out at soccer games in West Coast cities with heavy Hispanic populations.

SOBO created a "luchalibre" Mexican wrestling mask in the form of a "chivas" to promote Miller's sponsorship of the Chivas Guadalajara soccer club, whose mascot is a goat.
Luchalibre
, a term used in Mexico for professional wrestling, is characterized by colorful masks, so the product had to be authentic. "The key was understanding the roles wrestling and soccer play in the community," says Schwartz. "They wanted to target males, ages 21-35, so we created a recognizable, but creative product. In the Hispanic market, you can talk the talk, but you also have to walk the walk when it comes to knowing what consumers want."
Miller also supports education in the Latino community, contributing a portion of its Texas and Oklahoma sales to Adelante, a national nonprofit organization committed to providing resources to Latinos seeking to achieve a higher education.
For more creative promotional product ideas,
visit the Wilson Printing Promotional Products site
!